Blauenstein Georgia, a joint venture between Georgian and Swiss partners, is embarking on an exciting venture: cheese production and the strengthening of preservation branches. Tatia Arabidze, the company's director, recently shared their plans during an interview on the program "Women's Narrative."
"We cooperate with Dmanisi Swiss cheese factory, and we are eager to commence cheese production as part of our planned expansion. Dmani enterprise, an already established high-quality enterprise in Georgia, follows stringent standards. Currently, there might not be a need for two Swiss companies producing the same product, but we are prepared to meet any future demand," Tatia Arabidze explained.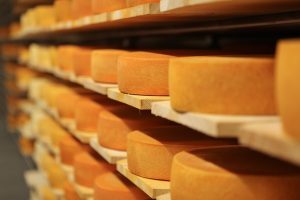 Simultaneously, Blauenstein Georgia has set its sights on expanding its branches and establishing new partnerships.
"Our focus is not limited to specific sectors. While we primarily specialize in grain-raised pork production, we are open to expanding our offerings based on market demands. Should the need arise, we will develop this sector further. We are always on the lookout for quality partners, such as Dmanisi's enterprise, to collaborate with," Tatia Arabidze added, emphasizing the significance of healthy competition. "We manage the entire production chain, from hay cultivation to the packaging of finished products. While maintaining our operations independently is possible, having businesses like ours thrive in the market encourages growth and interest in our field. We welcome competition and associated costs as they contribute to the establishment of this industry in Georgia," she stated.
Blauenstein, an investment company founded in 2008, holds a unique position as a Swiss-Georgian enterprise operating in the Racha region. Their focus lies in producing beef from their own farm and retailing these products through a branded store in Tbilisi.
By Mariam Gorkhelashvili