Levan Tediashvili is still the only wrestler in the world to have won the title of champion in three different weight categories. The famous Georgian wrestler is a two-time Olympic champion, and multiple winner of the world and European championship. After finishing his career, the legendary sportsman unexpectedly tried his mettle in acting and perfectly played the role of folk-legend thief Gogia Kenkishvili in the movie "Khareba and Gogia". More than 30 years have passed since then, and, recently, 73-year-old "Teddy" (Big Teddy Levan Tediashvili in America – R.Sh.) achieved another victory – he was named the Best Actor at Tribeca's 20th anniversary film festival!
At the annual Tribeca Film Festival, founded in 2002 by Robert De Niro, Jane Rosenthal and Craig Hatkoff, Levan Koguashvili's film "Brighton 4th" won three major awards – Best Picture, Best Screenplay and Best Actor. Levan Tediashvili's protagonist is the main character of the film, a former wrestler who comes to Brighton to help his son who is in debt. Giorgi Tabidze, Nadezhda Mikhalkova and legend of Georgian cinema the late Kakhi Kavsadze, participate in "Brighton 4th", and, for Kavsadze, this role turned out to be his last.
Levan Tediashvili does not like journalists very much. Famously reclusive, he even refused to reveal how the director persuaded him to take part in the film when he finally agreed to an exclusive sitdown. However, he did praise Koguashvili, and is sure that sooner or later, the Georgian director will also be nominated for an Oscar.

"Levan Koguashvili is a very good man and director, and he will definitely achieve great success. He will also get an Oscar – I predict it! By the way, one very big director asked me to play the role of Vakhtang Gorgasali (a Georgian king, the founder of Tbilisi in the 5th century), but I refused. I'm waiting for Levan Koguashvili, and if he makes a film on this topic, I will agree," Tediashvili says.
The shooting of Brighton 4th took place in the USA, where Tediashvili had competed several times during his sports career. He says that Brighton Beach is an interesting place, one where many representatives of the former Soviet countries live. The hospitality from the Georgians was not surprising, but the Russians, Uzbeks, Jews and many other nationalities expressed great respect and warmth to the film crew from Georgia.
"The Uzbek boys even cooked Plov in our honor," he says.
Tediashvili is still friends with John and Ben Peterson, the American Olympic champion brothers who have repeatedly lost to him in various tournaments. From his American travels, Teddy recalled the story of a visit to the White House years ago, and a meeting with then President Richard Nixon:
"I avoided a large fine while visiting the White House … for sitting on President Lincoln's chair! I stepped on the restraining tape and sat down on the chair, and was later told that a great crime had been committed. They didn't take their eyes off me after that, to make sure I wouldn't cause any more mischief!
"Before we sat down to dinner, the presidential aide carefully warned me that twelve kinds of forks would be brought, each one with its own purpose, and God forbid you mix them up! I put on my meekest smile and inquired whether it would be ok if I were to eat with my hands. He was very upset about it and immediately reported to the Soviet ambassador that Tediashvili was behaving badly!
"When I looked at the offerings on the table, I immediately realized that if I took my regular fill, the rest of our team would go hungry. I told the representative of the security service that if Nixon visited me in Sagarejo, my birthplace, I would kill a calf in his honor and there would be enough meat for everyone. It seems the president heard his name mentioned and asked what I had said. When my words were translated, he smiled. 'I'm very poor, and Teddy is richer than me and can afford to kill a calf,'" he said.
Due to the pandemic, Tediashvili wasn't able to attend the award ceremony, but claims it is an honor that a festival founded by such a great as De Niro had singled him out. Teddy says he was very lucky with his partner actors. The death of the famous Georgian actor Kakhi Kavsadze was heartbreaking, he tells us. "I saw him after e got his diagnosis with coronavirus, and he was brave, hopeful, but … he died within a week. It breaks my heart that Kakhi could not live to see the success of his last film."
Levan Tediashvili has a plethora of unique achievements: a multiple winner of the Olympics, World and European championships, and he is also the only wrestler to become a champion in three different weight categories. In addition, in 1973, he first became a world champion in freestyle wrestling in Tehran, and three days later in Sambo, too. The famous wrestler says that Vakhtang Balavadze (Georgian freestyle wrestler, two-time world champion, bronze medalist of the 1956 Melbourne Olympics) asked to participate in the sambo championship.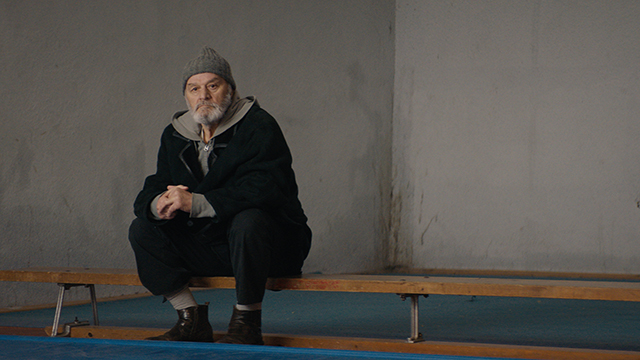 "In my youth, I also competed in Sambo – we wrestled all tyles, even Greco-Roman. I complained 'where are you sending me? At least remind me of the rules, lest I do something stupid' I said! I went out and … along with the championship, I also won the prize for the most technical wrestler!"
We also talked to Levan Tediashvili about his son, who died during the war in the Russian-occupied part of Abkhazia. In "Brighton 4th" Tediashvili plays a father who comes to the USA to help his son. He says he'd go to the world's end, if it meant he could help his son in real life:
"When my son Vakhtang left for Abkhazia, I got on a plane and went with him. My son was going to war and I would stay at home?! No chance! 'Dad, where are you going?' he asked. I will cover at least one bullet fired at you, I said. I thought so, but when Babushera airfield was bombed and the plane exploded, I couldn't help him, and he died in my arms in the hospital. I would not want one's worst enemy to feel what I felt, I have traveled a very difficult path."
At the end of the conversation, we also asked the legendary wrestler, if he wrestled today, how good would he be?
"The rules have changed so that wrestling is no longer as diverse as before. Excessive referees are sometimes too much. We still have good wrestlers, but if Georgian wrestlers don't use various Georgian wrestling techniques, wrestling is no longer spectacular!"
By Rati Shelegia