Zhana Odiashvili is a 29-year-old native of Gori with a passion for showing visitors that there is more to Gori than the famous Stalin Museum.
In 2019, Zhana decided to turn her love for her hometown into a business, offering visitors free walking tours of Gori.
Despite the challenge of juggling two jobs and feeling exhausted at the end of the day, Zhana pursued her passion for sharing the history and culture of Gori through tourism.
And while the Covid-19 pandemic damaged tourism in Georgia and worldwide, she remained committed to her dream, never regretting her decision to start her own tour company and keeping hope for a brighter future.
It is important for me to show travelers alternative Gori beyond the Stalin Museum, and tell them that not everyone worships the tyrant
GEORGIA TODAY sat down with her to learn more as she shared her story and passion for showcasing Gori's best landmarks and activities.
How did you come up with the idea of offering tours in Gori?
I used to work at Envoy Hostel. I loved the experience, since I could meet travelers from all over the world and make new friends.
I was a receptionist, so guests were always asking me for recommendations. I noticed that almost everyone was visiting the Stalin Museum, and at that time, I could not advise any other place to visit or activity to do in Gori.
I joined the travelers several times and did a small tour for them. I enjoyed it very much. They were also pleased to spend more time in Gori than 40 minutes at the Stalin Museum.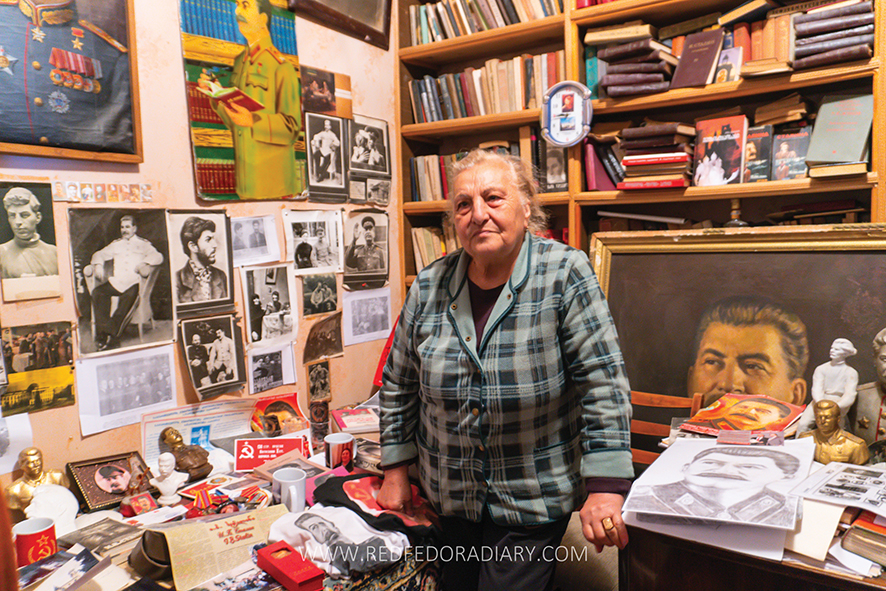 As a young person who was born after the collapse of the Soviet Union, it is of great importance for me to show travelers alternative Gori beyond the Stalin Museum and tell them that not everyone worships the tyrant. Actually, that was my primary motivation to protest against "love for the monster." So, Gori Walking Tour is not only a three-hour tour for me, but a type of social activism too.
Another reason for starting Gori Walking Tour was that I would have an opportunity to speak up about Russian aggression and the war in 2008, which affected my family and me as we were displaced for some time with many others, and lived at a public school in Tbilisi.
I aim to be a responsible citizen, and being a guide allows me to raise awareness about the 2008 war and the current creeping occupation.
The tour I created is authentic, with personal stories and opinions, which is exactly what travelers seek.
How long did it take to finalize the tour route? Did you face any challenges?
It took some time to research places to show and histories to tell, but not too long. One can learn better from doing, so I decided to give it a try.
My friend helped me create a Facebook page, and I was very excited when I got the first booking. After my first tour, I modified the route and sights, but that is a normal process.
Naturally, there were and still are some challenges. For example, I live in Tbilisi, and traveling back and forth is time-consuming.
Additionally, there were cases when I had bookings for different tours, and since I am the only one doing these tours, I had to find the best solution.
All in all, these obstacles help us grow, so I have nothing to complain about. I have learned a lot and developed many personal and professional skills.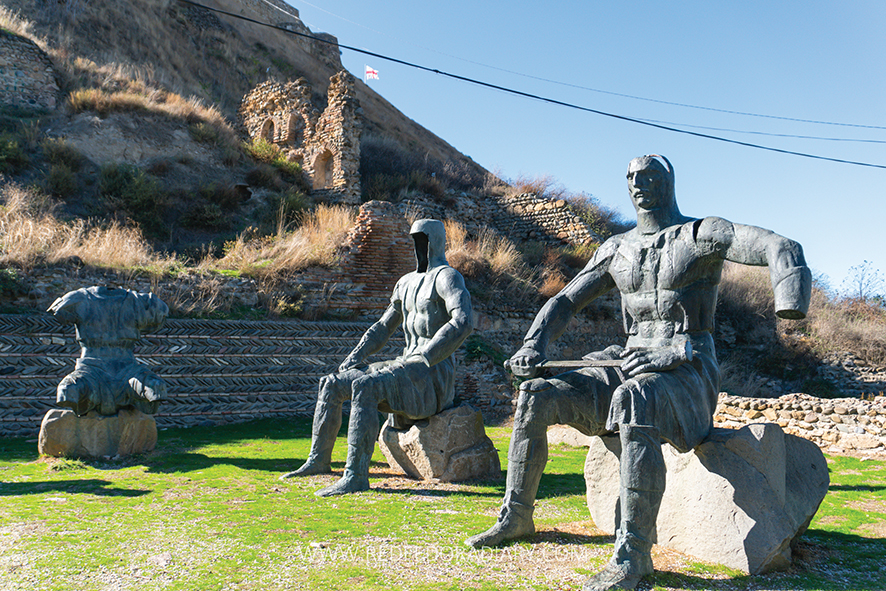 Why a free walking tour specifically and not a typical tour?
I wanted to do an explicitly walking tour based on tips because I wanted to bring a bit of Europe to Gori, and also, every traveler would be interested in joining, no matter the budget.
My main interest is social responsibility, not money.
How did you attract tourists to join your tours?
Initially, I posted in Facebook groups such as Expats in Tbilisi and Georgian Wanderers, and organized Couchsurfing meetings. Later, travelers spread the word, and writers included me in their blogs. I also registered on Freetour.com.
It took time, but I want to express my gratitude to all those who helped me immensely. Without their support, I wouldn't have been able to achieve such success.
Do you always follow a set route, or do you like to mix it up?
I follow a set route but always pay attention to travelers' interests, so I ask beforehand and plan the tour accordingly.
It was natural to add the Soviet tour of Gori because of its history. Was it challenging to create this tour?
I created the Soviet Tour, as travelers wanted to drive around in a Soviet car, which is exciting for them. I discovered Soviet-era bas-reliefs and more sights connected to the USSR in the town. Stalin was born in Gori, making the city perfect for a Soviet-themed tour.
It is also interesting to meet Stalin fans, listen to them, and think about why people are nostalgic for those old days. We should listen to everyone's perspective, and try to look at things differently. I am a sociologist, so I really enjoy observing and learning from others.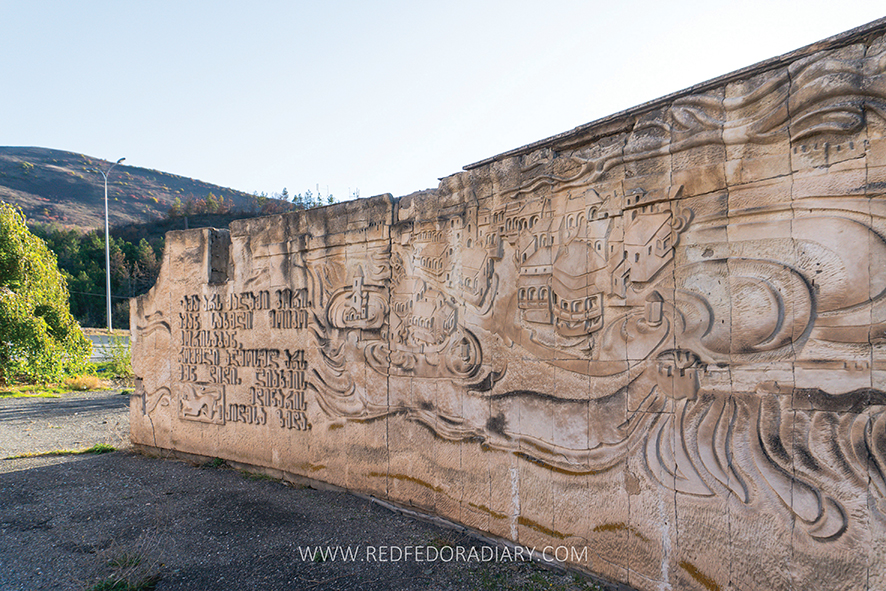 What are your other interests or hobbies besides being a tour guide?
I don't have much free time now, but I like visiting museums, galleries, opera, or theater. I also love traveling abroad when I have the time and finances.
You opened a wine bar/shop in Gori. What does it offer visitors?
I opened the first wine shop in Gori near the fortress in the old historical part of the town. I always wanted a social space where people could enjoy a glass of wine, play games, and make new friends.
There are several restaurants in Gori, but my idea is to have a wine store where travelers can buy wine from small wineries, and popularize wine-tasting and networking events. For instance, visitors can find wine from the villages near the occupation line, and supporting these locals to stay and not leave their homes is of great significance to me.
I have many ideas, and I hope to fulfill them soon.
Any other plans/dreams you have for Gori?
I wish people would spend more time in Gori so we could develop some kind of nightlife. It would be great to run a hostel that offers many activities to its guests.
My biggest dream is to transform the Stalin Museum so that it is not a falsification of history, and serves the purpose of giving people knowledge about Soviet terror and totalitarian regimes.
I am ashamed that we have a museum like this in a country that wants to be a part of the European Union. We have lived under a dictator's shadow for a long time. It is time to end this toxic relationship – we must move on and create a better future.
You can contact Zhana via facebook (fb.com/GoriWalkingTour). Check out her instagram: GoriFreeWalkingTour
By Baia Dzagnidze for Georgia Today Business Magazine