Beko, one of the world's leading household appliance brands, celebrated the 25th anniversary of its operation in Georgia with a grand ceremonial event held at Sheraton Metechi Palace, hosting 700 guests, including public figures, the business sector, and media representatives. The guests enjoyed a special festive program and an unforgettable evening.
Beko Georgia is a representative of Beko Global, named among the top three brands of household appliances in Europe. Worldwide, Beko Global is present in 150 countries on seven continents, and counts 300 million customers, includes 12 brands, and has a total of 40,000 employees.
Beko celebrated its 25th anniversary with the presentation of Beyond, a new line of completely different, sophisticated design and modern technology. The new line will offer customers sustainable, highly efficient designs and targeted products created with the latest technologies.
All products united in the Beyond line are distinguished by a new, functional design, deeper cookers, cooling systems, smoother surfaces, wider doors, and improved product storage systems, while the DNA of the brand is united around one common goal — Live like a Pro.
The company launched its activities in Georgia in 1997 with one store in Batumi, and today Beko has 98 trading spots, 5 service centers, 800 employees and hundreds of thousands of loyal customers across the country.
At a special press conference, the company representatives noted that the company has gained the trust of customers over the years with a high level of service, innovative equipment, a wide range of products and the professionalism of its staff. This successful activity of Beko is united by its strategy -Live like a champion!
CEO of Beko Georgia, Mehmet Melek, noted that during the past 25 years, the company closely followed the country's development, overcame a number of economic fluctuations and decently coped with the domestic and foreign challenges Georgia has faced.
"Today, we represent a strong, development-oriented and profitable company with large-scale goals, which takes a worthy place in the development of the Georgian economy in terms of budget taxes and the number of employees," Melek says. "Our work serves to create mutual benefits from an economic point of view, as well as to strengthen the strategic, friendly relationship between Georgia and Turkey from a political and social point of view."
He adds that the company develops and expands year by year, however, it does not intend to stop at what it has achieved and plans to expand in the future, offering diverse, high-quality products to customers and introducing innovative methods in the field.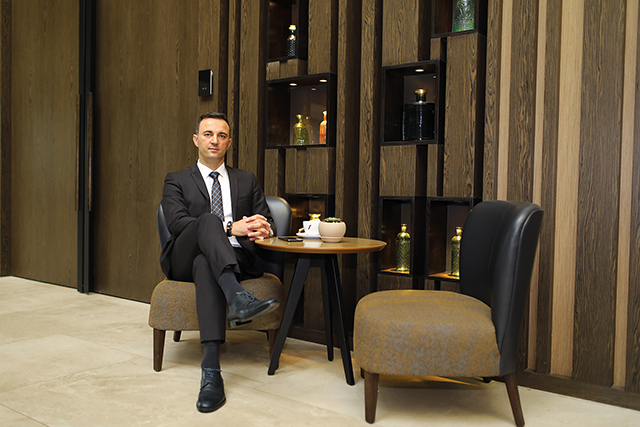 "Of course, we have ambitious plans ahead and we want to offer many more innovations to our loyal customers," he tells us. "First of all, this is, of course, the expansion of the Beko store network and service centers, so that customers in all cities can use our products and quality services. In addition, it is important for us to offer our customers an even more diverse range of brands and modern standards, high-quality, energy-efficient products. Here, I would like to thank each of our customers who have been recommending us for years and remain loyal to Beko's quality."
In addition to leading positions in the consumer market of household appliances, the company Beko is a participant in many social and humanitarian projects in Georgia, and the company is proud of the results achieved in this direction, Melek notes.
Erman Korkmaz, Beko Regional Sales Director, points out that along with celebrating the 25th anniversary in Georgia, the company is happy and proud to present the new Beyond line of production, set to provide them even more comfort and sophistication, and, at the same time, more focused on sustainability and energy efficiency, which itself is one of the priority directions of Beko.
"We've a long history in Georgia, just as we have in the European market, and we're very excited to celebrate the 25th anniversary here today," Korkmaz notes. "Further, we're happy to be launching our new production line for the Georgian consumers and presenting our new feature, the cutting-edge product, in the local market. Beko, as a company with particularly high Corporate Social Responsibility, continues to work hard to provide its customers with energy efficient, eco-friendly products, and our new line Beyond, now also available for Georgian consumers, is yet further proof of it. Georgia is a unique and important market for Beko, and we have very ambitious plans to expand our business and activities here," he says.
Khatia Tkebuchava, Head of PR & Marketing, tells us more about the new Beyond line.
"Beko globally presented a new product line, Beyond, which envisages eco-friendly and energy efficient products, maximally aimed at the comfort of its users. It has a minimalistic design, which means wider screens, for washing machines wider doors, and innovative technologies. Our new stoves boast AeroPerfect technology, which allows steam cooking. Our new washing machines offer steam care, washing with steam, and our new refrigerators present the Harvest Fresh system, which is inspired by nature and keeps fruit and vegetables fresh, just as if they were in a natural environment. Georgian consumers have been able to buy Beyond products in Beko store and online at technoshop.ge since January, however, from October, we'll further increase the assortment of product available," she says.
Against the background of its successful operation and impressively long history in Georgia and worldwide, Beko does not intend to stop here, and continues to expand its chain and change the lives of its customers with innovative products that both meet their needs and are more sustainable for the environment.
By Ana Dumbadze