On November 22, People In Need organized BageBee Autumn Beekeeping Fair/Event in Tbilisi, in cooperation with the Embassy of the Czech Republic in Georgia, Tbilisi City Hall and Union Association Agora.
During the event, a wide selection of honey and honey products were presented from all over Georgia. Beekeepers and visitors learned about the Bagebee Center services and an educational component for 2022.
In addition, Bagebi Center initiates to hold a discussion on challenges in the field of beekeeping with the involvement of Beekeeping experts. During the discussion, a presentation of the needs obtained through the SWOT analysis as a result of the ongoing trainings at the center were presented. Invited Representatives of different institutions were given the opportunity to learn about existing challenges and, if necessary, jointly plan future working steps.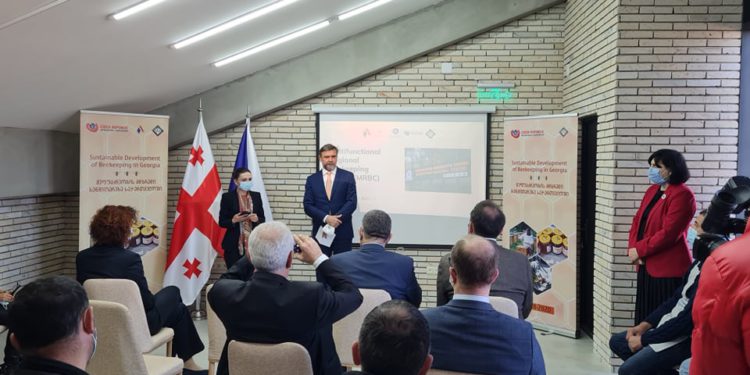 By organizing such a meeting, Bagebi Center advocated for existing challenges in Beekeeping field  at various levels and facilitated the use of the Center's capabilities and space as a platform for initiating innovations in beekeeping field.
Multifunctional Regional Beekeeping Center was built and equipped by the Czech Development Agency in the framework of the project "Sustainable Development of Beekeeping in Georgia" with partnership of People in Need Georgia, Association "Agora" and Tbilisi City Hall.
Strategic vision of the Center is rooted in rural/urban connectivity, sustainable agriculture, and in vision of Tbilisi-as-a-Green City.
Key principles of the Centre are environmental appreciation, sustainable resource use and inclusive growth.
Center principal vision is to be a central player in Georgia's growing beekeeping sector.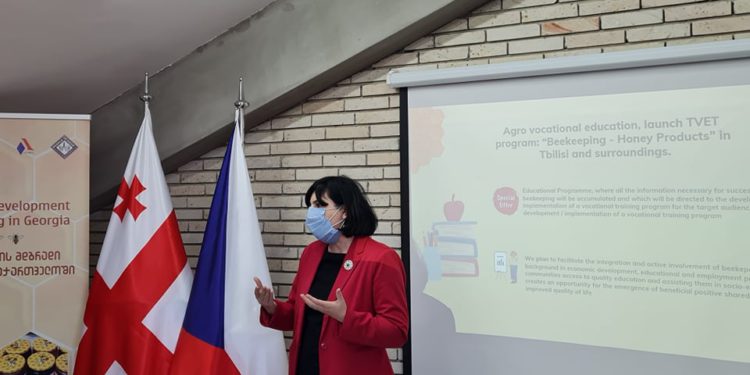 Czech Development Cooperation in Georgia
Georgia is one of the Czech Republic's development cooperation partners. Over the past 10 years, the nature of cooperation has evolved from humanitarian assistance through post-war reconstruction to the current scheme that supports stability and successful integration of Georgia into the European Union.
People In Need in Georgia
People in Need is a Czech non-governmental organization that provides relief aid and development assistance while working to defend human rights and democratic freedom. People in Need has been working in Georgia since 2005 and supports the development of civil society, promotes the socio-economic integration of vulnerable populations and supports agriculture development.
Project "Sustainable Development of Beekeeping in Georgia"
The PIN project "Sustainable Development of Beekeeping in Georgia 2018 – 2021" aimed to strengthen the country's beekeeping sector and support the sustainability of the Multifunctional Regional Beekeeping Centre (subsequently referred to as the BageBee Centre), constructed under CzDA project with partnership of People in Need Georgia, Association "Agora" and Tbilisi City Hall.