By Nina Tsipuria
Anthony Barboza, photographer, writer and friend of Miles Davis, is known as a jazz legend and his African-American style of creativity and photoshoots for jazz musicians. The photographer is currently 79 years old. Barboza's photographs depicted the main message of American social or cultural life, which is why we see not only characters in his works but also the main problems of the era.
This is how Mr. Barboza's story began:
"When I turned 19 years old, I decided that I wanted to be a photographer. My aunt Jean had a New York Telephone yellow pages book. When I looked through it I came across an advertisement for The New York Institute of Photography.  For 6 months, I worked 2 jobs to raise money to move to New York City. In the daytime, i worked in a supermarket, packing groceries for customers. Nighttime in a dye company, painting fabrics. I was ready by the end of October.        My parents decided to drive me to New York City. Driving through the city, we thought it was best to find a hotel in the Times Square area. With all the people on the streets day and night we figured it would be safer for me to live. When i got more familiar with the city i would look for a place to live. There it was my new home on 49th St., Hôtel Chesterfield in the  Timed Square area. It was a small room and i could put my cold beverages out on the window ledge, to keep them cold.        When my parents left, I would kill time by walking around the Times Square area, taking in all the giant billboards of advertisements, gift shops and crowds of tourist enjoying the sites.         One day I saw a group of people chasing a limousine down Broadway. I saw a glimpse of the passengers. It was Richard Burton & Elizabeth Taylor coming from a Broadway Theater. My first sighting of the rich and famous. Welcome to the big lights of Times Square."
About his life, photoshoots with celebrities and stories behind the camera Anthony Barboza told to Nina Tsipuria.
Photoshoot with Halle Berry
It was 1991 and Regis Pagniez, the Editor of  Elle magazine wanted me to shoot an up-and-coming actress named Halle Berry. I had worked for Elle since the late 1980's and they were familiar with my work, including a previous shoot with Laura Dern.
At the time of the shoot, Berry had just appeared in the Spike Lee movie, "Jungle Fever." There was a lot of talk about it, but this was the first time I'd heard of her.
She was very nice and the shoot lasted most of the day. We shot her in many different outfits. Her style was very free and loose and she did whatever was asked of her. She was very accommodating. But there was an uncomfortable development during the shoot. After she made a change of clothes, we took a picture with one of her nipples accidentally exposed. I told her that we would have to cover it up, but she didn't seem too bothered by the situation. But there was another interesting development that day. At the end of the shoot she caught me by surprise by saying that "We should go out for dinner." I agreed and she gave me her agent's number. She's a very beautiful woman so of course I was interested. The next day I called her agent and said "Halle told me to call about the two of us going to dinner." The man replied by saying "Oh she had to run to do an interview in California." I never got my dinner.
When 2001 came along Halle was up for an Academy Award for "Monster's Ball." USA Weekend asked me to shoot a cover of her. It was going to take place at a photo production studio in New York City. I got the crew together including a hair dresser,  makeup artist and stylist. The clothing was quite elegant.. Right on time Halle walks in with her agent, who turns out to be a tough little cookie. When I greeted her she looked at me as if she wasn't sure about something. I said, "You don't remember me, do you? We did a shoot for Elle magazine." She didn't remember. I spoke again. "We were supposed to have dinner 10 years ago." She still didn't remember. But nonetheless, she was very cordial. Her agent soon asked, "How long is this shoot going to take?" He had reason for concern. After all, Halle was a big star now. The agent didn't want anybody at the shoot who didn't have to be there. He was very protective. The shoot would last from 10 a.m. to 5 p.m. I shot her with different lighting and backgrounds. I used some flower vases and used some Old Time Hollywood lighting techniques along with some of her against a wall with a sexy dress. One of the outfits was a white dress with some lilies to put in a vase next to her. Another shot included a jacket and pantsuit that was eventually used for the cover. She was an excellent model. She took directions very well. She was very sweet but I was still disappointed that she didn't remember me. A photo from that day was eventually used on the cover, even though it wasn't my favorite. They didn't use the one I liked the most. Soon after that she won the Academy Award for her role of Leticia Musgrove.
A week later I was interviewed by USA Weekend about the recent shoot I had done with her. It was the last shooting she did before winning the award. They explained that this was the second time I had shot an actress just before she won an Academy Award. There was the shoot I had done with Cher in 1988 just before she won Best Actress for the movie "Moonstruck." After Cher won she wouldn't shoot with anyone else, she would refer magazines to use photos of the shooting we had done previously. Those photos made me $30,000. USA Weekend wrote a little column saying that I must be a lucky charm because Halle did a shoot with me prior to winning an Academy Award, just like with Cher.
I went on to sell Halle's photographs and they brought me about $25,000. They were glamorous and sexy and they were used by magazines all over the world. She is so photogenic and moves so well. She has this charismatic look about her when she's having her picture taken. When "Lakawanna Blues" came out in 2005, I was invited to a premier screening in New York by some producers who had used some photographs I had taken of my parents in their film. I was sitting in the audience when Halle walked down the aisle. She noticed me, walked over and said "Oh, hi Tony." I thought, "Oh, now she remembers me. I can't believe it." She gave me a smile. There was an after party that same night and the place was full of stars, including Halle. She came over to me and began talking to me again. My heart just dropped. She remembered me.
One day with Cher
It was  November 1987.  Location: Los Angeles Published: The New York Times Magazine.
"The New York Times Sunday Magazine called me and asked me to shoot Cher in Los Angeles. At the time, I was living between New York and L.A. because my wife, Laura Carrington, was working on the soap opera ' General Hospital .' "The Times sent my portfolio to Cher's agents with mainly black people in it. Cher's agents sent the book back, and said, 'Do you have more with white people than what's in your book?' The Times said, 'This is who we're sending and that's it. Take it or leave it.' They backed me up. So they said, 'OK.'
"We arrived at Cher's house at 9 a.m. It was right near the famous Beverly Hills Hotel. I brought with me a black assistant from California. The house was shaped like a pyramid with the top of the pyramid cut off with glass on top so that the light comes through. I said to myself, 'Wow, this is a big house.' I eventually noticed that there was a house behind her house, which was a gym. "We were greeted at the door and we stepped into a beautiful, giant living room with the light coming in from the top, with all of these couches and stuff. We put our equipment down while Cher was upstairs. At that time, we were downstairs with her makeup and hair people. Someone told me that they had told her that there was a Rastafarian downstairs (laughs).
"The assistants came downstairs, looked at me and went back up, so they must have told her that. Eventually, a guy comes down and says, ' Cher wants to see your lighting because if she doesn't like your lighting she's not going to do the shoot.'
"So I did a Polaroid, and there was beautiful lighting in there, and I combined it with my strobe lighting. They took the pictures to her and, soon after, a guy came down and said, 'We love it, we'll shoot.'
"Now, at this point, I'm nervous as hell, I don't know what to think. So she comes down and the first thing she came down in was a pair of jeans, so I shot her on a couch and she loved the Polaroids I was taking.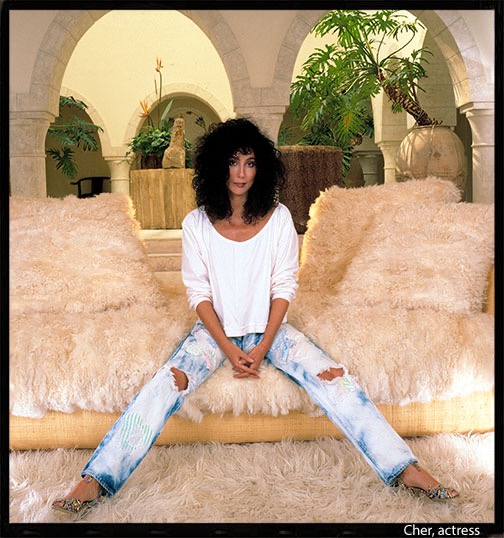 After she got to meet me, she just loved me. We shot from 9 in the morning and stayed until almost 9 at night. We were there all day. After the first shot, she said, 'You know, there's plenty of food in the refrigerator, just help yourself. Whatever you want, Tony, whatever you want.'
"For the second shot, she had me go upstairs with her, where she had an unbelievable amount of clothes in a closet as big as her bedroom. I picked out another outfit and we went down to shoot her in that. It was a sexy-looking outfit, like something she'd wear on stage.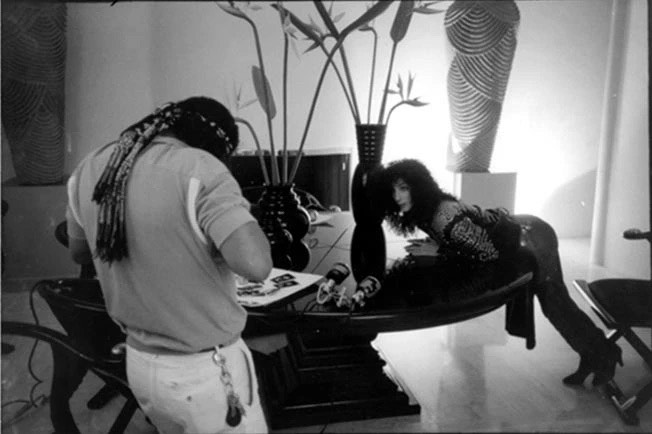 "We had a great time together. She was wonderful to work with. She was so sweet and mellow. I was shocked that we had stayed so long. It took a long time to do the makeup and stuff, but she was very gracious. So after the shooting was over, we were sitting and talking and I mentioned to her that, 'Your people didn't want me to shoot you because they wanted a portfolio with more white people in it.'
But she said that she didn't know anything about it. "These were the last shots Cher took before she won an Academy Award in February of 1988. After that, she stopped doing photo sessions for magazines, sending them to buy the pictures from me instead. One of the photos ran on the cover of Ladies' Home Journal, but they were sold around the world through a stock agency, Contact Press Images. I got $250 to do the shoot and wound up making more than $30,000 from the sales of the photos.
To be continued…