Anastasia Chkhartishvili is name is well-recognizable to people interested in table tennis in Georgia. She is a talented 12-year-old girl who can unreservedly be called a young rising star of table tennis.
Since 2021, when Anastasia started to compete among the cadets, she has been able to win almost every major tournament, regardless of her age.
In March this year, she became the champion of the Tbilisi Cadet Girls Tournament, the Tbilisi Women's Tournament Champion, the Vice-Champion of the Georgian Cadet Girls Championship (U15), the Georgian Cadet Girls Championship (U15), and Champion of Georgia among cadet girls and boys (U15) at the Georgian Championship in mixed doubles.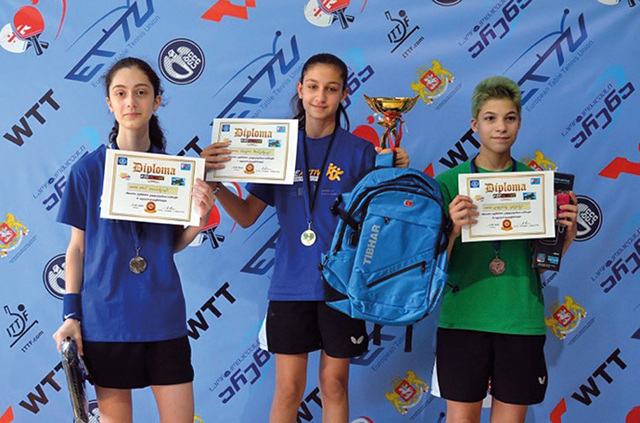 She also became the absolute champion (without losing a tour) of the Adult League, a three-month "Be Active" tournament among the cadet girls. She is the first girl to win the right to play in the Super League, and is among the strongest players in table tennis in Georgia.
Anastasia is currently training intensively with the Georgian cadet U15 team to participate in the European Championship, scheduled for July in Croatia, under the direct supervision of the Georgian national team coach Nino Ninoshvili. Anastasia is also assisted by current athletes Levan Pavliashvili and Lasha Lomia, multiple champions of Georgia, as well as coaches Kote Kharati and Dima Firzadov.
We wish Anastasia success and that she will achieve her goal with dignity!