American Friends of Georgia, Inc. has been providing humanitarian assistance, education, medical care and rehabilitation for the most vulnerable populations in the country of Georgia since 1994. Although AFG assists many projects in Georgia, among them the Leukemia Children/Hematology-Oncology Center/Parents House in Tbilisi, the Nikozi Education and Cultural Center for War-Affected Children (COATS & Annual International Animation Film Festival), the Covid-19 Relief Fund, 'Together for Real Changes,' supporting children with disabilities in remote regions, Preservation of a Landmark – the Last remaining Royal Palace in Tbilisi, and the Community College of Decorative Gardening, in this article we focus on their three biggest ongoing projects:
Higher Education Scholarship Fund for former street children
The Youth Platform is the first project of AFG with a specific focus on youth. It aims to contribute to the culture of philanthropy and volunteerism in the younger generation through educating and empowering them for a better future. The project encompasses two directions: the Youth Social Program and Youth Preservation Program.
The Youth Social Program responds to one of the most critical challenges in Georgia: rendering assistance to those vulnerable and indigent. The program seeks to develop the culture of civic activism, tolerance and empathy in young people, at the same time providing support and compassion to those who require it the most: the elderly and children.
With the Preservation Program, AFG wants young citizens to become drivers of positive change, through educating and encouraging them to identify and work on urban challenges with regard to cultural heritage and preservation. The goal is to stimulate a young generation's interest in architecture, history, and the importance of cultural preservation.
The project supports the process of building a democratic civil society and empowering young citizens to become Community Champions and stand for culture and the tradition of volunteering and philanthropy, as well as preservation of the capital's cultural heritage.
The Youth Platform is implemented through a specially designed program which includes lectures, seminars, workshops, city tours focusing on appreciation of the urban environment, and volunteering for social programs (primarily in the Hospice Homecare Program).
At the moment, AFG is cooperating with the Guivy Zaldastanishvili American Academy, but plans to expand cooperation further with other educational institutions.
"For me, the experience was indubitably unforgettable. I was given the opportunity to work with amazing members of the organization and in unison we put in maximum effort to change the society we live in. Our leaders provided us with insight on our surroundings and guided us on the right path to change. I believe that the American Friends of Georgia will continue in the same spirit with all the volunteers and eventually, we will all see the transformation we long for," says Mancho Natsvlishvili, 17.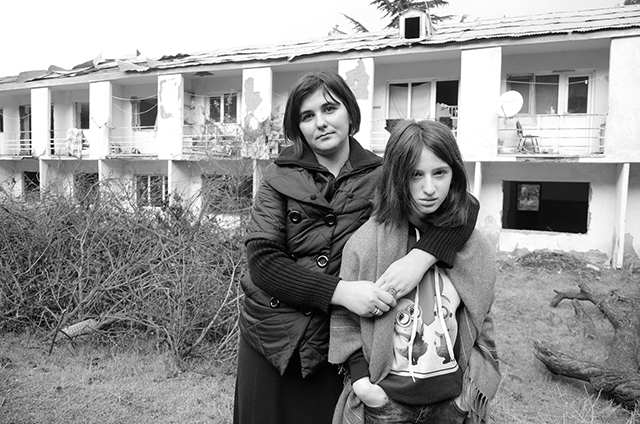 The Dzegvi Community Shelter
The Dzegvi Community Shelter for former street children, abandoned single mothers, mentally and physically ill persons and homeless elderly needs reconstruction totaling $260,000. Thanks to the sponsors and supporters at past AFG galas in Tbilisi, and supporters in the US, American Friends of Georgia was able to raise $230,000 toward the Dzegvi Shelter Building Fund.
"We are grateful to all of the participants but especially to our primary sponsor, Ivane Nakaidze, founder and managing partner of the Petrocas Energy Group," AFG representatives note. "We are almost there! We need $30,000 in additional funds to finalize the reconstruction of the Shelter. Nearly 100 homeless elderly, mentally ill and physically handicapped, and abandoned mothers with their children will benefit when the building is completed."
The building will not only include residential facilities, but will also meet the critical need for additional public spaces for educational and vocational training, medical care, art therapy, and a children's gymnasium.
Leaking roofs, inadequate or absent sanitation, and refuse are unacceptable living conditions. We can and should help build a viable shelter, the Dzegvi Community Shelter that houses and rehabilitates Georgia's most vulnerable.
Mercy Center Hospice, Nursing School and Home Care Program in Tbilisi
The Mercy Center Hospice, Nursing School and Home Care Program was founded in 2003 as the first, and now only, free hospice and palliative care center in Georgia.
This unique program provides qualified and compassionate care, free of charge, for many of the most vulnerable Georgians with terminal or chronic illnesses who are living under the poverty line, many alone in their homes with few options for care. Over 30% are women of all ages receiving care for metastatic breast cancer. Amazingly, the Mercy Center Hospice program can be fully funded with only $6000 a month, but is essential to the support of elderly and disabled patients in Georgia.
Health insurance in Georgia does cover hospitalizations, as in the United States, but not the very critical need for post-hospital rehab or palliative care services. Additionally, there is no system similar to the US "Visiting Nurse Association" or any public rehabilitation centers in Georgia. The Georgian elderly living on small pensions cannot pay for private home health services when chronic or terminal illnesses arise. The Mercy Center Hospice, Nursing School and Home Care Program fills this invaluable niche in the social fabric of Georgian frail elders and desperately ill patients.
The Mercy Center Hospice is a small enterprise, but with deep needs for financial support.
In 2003, Mother Mariam created a hospice for six in-patients with serious chronic or end-stage illnesses to be cared for 'round the clock', and brilliantly planned a nursing school as an adjunct, not only to staff the hospice, but to teach young women valuable occupational skills and specific hospice and rehabilitative training. The home care program has been a natural offshoot of the hospice program.
With your generous support, patients can continue to have access to dialysis, insulin, antibiotics, painkillers and blood pressure medicines, while patients who are at home with multiple needs after hospitalization will be able to have nurses visit them daily, who can provide nutrition, medicines, injections, chemotherapy, even washing and cleaning. Patients who need artificial feeding with a probe or need wound and ulcer care with iodine and bandages will continue to be attended to.
The Mercy Center Nursing School, attached to the Hospice, accepts low-income young women, interested in this career opportunity, and provides free tuition to 12 young students per year for a 2-year course in general nursing with specialty in palliative, rehabilitation and hospice care.
The Mercy Center Home Care Program currently cares for 55 frail elders, with over 100 patients cared for in the course of an average year. Graduate nurses and students visit elders in their own homes, supplementing family care, or providing the only care that elders with no family receive, allowing them to 'age in place' or recuperate from falls, illnesses or surgery safely and comfortably, or to transition, for more support, to hospice care.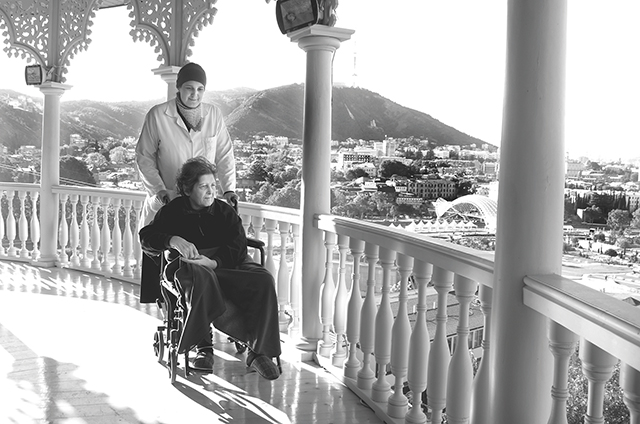 Help Raise Funds
If the above projects, though just three of many, have inspired you to reach into your pockets to help, you can do so through the AFG's exciting annual auction- this year online. Instructions are below and on the website: afgeorgia.org. The auction opens for bidding at noon on Sunday, June 13, and closes during AFG's Virtual Gala on Saturday June 26. The 2021 auction offers you everything from original art, a hand-woven carpet, handmade crafts and exotic tours, to a basketball signed by Steph Curry and other Golden State Warriors players, an antique map, cooking classes and more!
How to participate in the AFG Charity Auction 2021
Registration: Sign in or register by clicking on 'Sign In' in the top right corner. You must register and be logged in to bid.
You will be asked for your credit card information during registration to facilitate bidding. You do not have to enter your credit card information at this time. If you choose not to enter your credit card information during registration, you will be asked for it when you place your first bid
Bidding: Hover over or click an auction item and click 'Bid' to place a bid. The amount shown is the minimum bid amount. Clicking the plus sign allows you to increase the bid amount. You will be prompted to enter your credit card at this time, if you haven't already done so. Click CONFIRM to confirm your bid.
After you bid, you'll have the option to set a Max Bid, allowing the system to bid for you automatically, up to your specified amount.
You will see a trophy icon on the auction item where you are the current highest bidder.
If you are outbid, you will see a message on your screen, as well as receive a text message to notify you that you have been outbid.
Good luck bidding, and on behalf of GEORGIA TODAY, thank you for supporting such great causes!
American Friends of Georgia was founded in 1994 by Constantine Sidamon-Eristoff and a group of Georgian-American and American citizens, all of whom shared a mission to help Georgia through a difficult post-Soviet transition period marked by widespread poverty, infectious disease and food shortages. Since then, AFG has provided funding and support to institutions working to improve educational, economic, social, medical and environmental conditions. Below are highlights from AFG's long history in fulfilling its mission of improving the quality of life for the people in Georgia.
By Katie Ruth Davies