In recent years, Georgia has emerged as a favored destination for medical education among foreign students. One particular university has been garnering special attention and acclaim – Alte University. This private institution has rapidly risen to become a top choice for aspiring medical professionals, offering a myriad of advantages that make it stand out among its competitors. From practical clinical experience to world-class infrastructure and international recognition, Alte University is setting new benchmarks in the field of medical education.
Alte University is #1 university in Georgia for medical education in terms of Clinical Practice opportunities. Alte University is exclusive partner of "Evex," Georgia's largest healthcare service provider group. This strategic alliance provides both Georgian and foreign students a unique opportunity to gain high-level, real-world clinical experience across various healthcare services. The affiliation with one of the biggest clinics from Evex Group – Ivane Bokeria University Hospital ensures that students receive regular clinical practice from the third year until the completion of their studies which is an exceptional and unique opportunity for students studying in the Medical Program. This hands-on experience equips graduates with the necessary skills and confidence to excel in their medical careers.
"We cooperate with "Evex" clinics, which allow medical students from the third year to the end of their studies to get the highest level, real practical clinical experience in all services of the healthcare field. Partnership with the biggest health care provider in the country gives a unique opportunity to our students to continue their studying process in the second level of medical education in the ,,evex" residency program, also it is a brilliant possibility for getting a job as a doctor, Junior doctor or nurse in the future. " – said Keti Chakhnashvili, Dean of the School of Medicine of Alte University.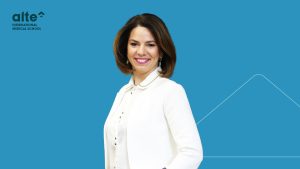 Alte University spares no expense in creating a conducive learning environment for its students. The institution boasts a state-of-the-art simulation clinic equipped with ultra-modern technologies. Simulation studying center's advanced facility allows students to practice medical procedures  and clinical skills in a controlled environment, honing their skills and fostering a sense of readiness for real patient interactions. Additionally, the OSCE center, a hallmark of medical education, ensures comprehensive clinical assessments through objective and standardized evaluations. The university also houses an exceptional space for dentistry, rivaling the best in the country.
The program is designed using the ECTS system, is student-centered, and is based on the student workload required to accomplish the program goals through the synthesis of knowledge and skills achieved as the result of acquiring the teaching and research component of the program, competencies of the certified physician defined by the framework of higher education qualifications and the field characteristics of medicine and the requirements of the employment market. The program is presented in four phases: Phase I (Basic) (I-IV Semester), Phase II (Preclinical) (V-VI Semester), Phase III (clinical) (VII-X semester), Phase IV (Clinical Practice and Research Phase) (XII Semester). Practice in clinical skills starts from the first semester and continues till the end of the study.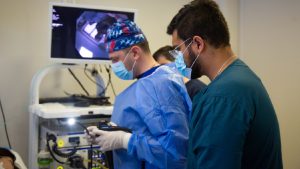 Alte University's medical program fully covers the nine objectives of the Third Goal and the priorities set by the World Health Organization (WHO), which are focused on promoting a global population health strategy.  MD program prepares qualified, certified doctors relevant to international standards and competitive in the labor market, who understand the core values of the doctor, meets the requirement of the World Federation for Medical Education (WFME). The program is recognized by the National Center for Educational Quality Enhancement (NCEQE) and the Educational Commission for Foreign Medical Graduates (ECFMG). Graduates of Alte University can confidently pursue further studies or employment in various countries, including the United States, Canada, all European Union nations, India, Sudan, and more. This global recognition adds value to the degrees earned by students and opens doors to a wide array of career opportunities worldwide.
"For admission to our acting programs, foreign students only need a  school mark sheet proving that they have successfully completed biology, chemistry and physics during the last year of their studies. Beside this, each student will have to attend an individual online interview, where we will check their English level and motivation to study medicine," says Keti Chakhnashvili.
Alte University takes pride in its exceptional faculty, the majority of whom are practicing doctors with invaluable expertise. Their real-world experiences enrich the academic curriculum, offering students practical insights and shaping them into well-rounded medical professionals. Furthermore, the university prioritizes student services and promotes an enriching campus life. A strong support system eases the transition for foreign students, making them feel welcome and at home in a new country.
Alte University understands the varied aspirations of its students and offers two distinct medical programs – dentistry and a one-level medical program. This flexibility allows students to pursue their passion and specialize in their preferred field of medicine.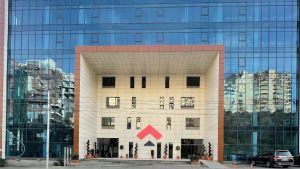 With its outstanding practical clinical experience, cutting-edge infrastructure, international recognition, esteemed faculty, and unwavering focus on student support, Alte University International School of Medicine emerges as a beacon of excellence in medical education in Georgia. For ambitious students seeking a comprehensive and rewarding medical education, Alte University offers an enriching and transformative journey towards a successful medical career and helps students to become evidence-based experts As the university continues to set new standards it has become one of the fastest-growing educational institutions in Georgia that unites students from 20 different countries: India, UK, Jordan, Israel, South Africa, UAE e.c. Alte University cements its position as a leading destination for medical education not only in Georgia but on the global stage.
By Mariam Gorkhelashvili