By Nino Tsipuria
"No mistakes in the tango, darling, not like life. It's simple. That's what makes the tango so great. If you make a mistake, get all tangled up, just tango on."
Lieutenant Colonel Frank Slade, Scent of a Woman (1992)
Martin Brest's iconic movie Scent of a Woman was released in 1992. The movie is unforgettable about the script and iconic tango scene. After 32 years, dance scene of Lieutenant Colonel Frank Slade and Donna is still one of the most romantic episodes in cinema history. The film earned $134,095,253 worldwide. Al Pacino's performance brought him the Academy Award for Best Actor and the film was nominated for Best Director, Best Picture and Best Screenplay Based on Material Previously Produced or Published. The film won three major awards at the Golden Globe Awards: Best Screenplay, Best Actor and Best Motion Picture – Drama.
British and American actress Gabrielle Anwar was just 19 years old when she played with Al Pacino, she gained worldwide fame after the film was released. Gabrielle Anwar is also known for her television roles as Sam Black in the second series of Press Gang, as Margaret Tudor in the first season of The Tudors, as Lady Tremaine in the seventh season of Once Upon a Time, and for her starring role as Fiona Glenanne on the USA network television series Burn Notice.
30 years after the shooting of Scent of a Woman, Gabrielle Anwar recalls the legendary tango and her life behind the scenes in an exclusive interview with Nino Tsipuria.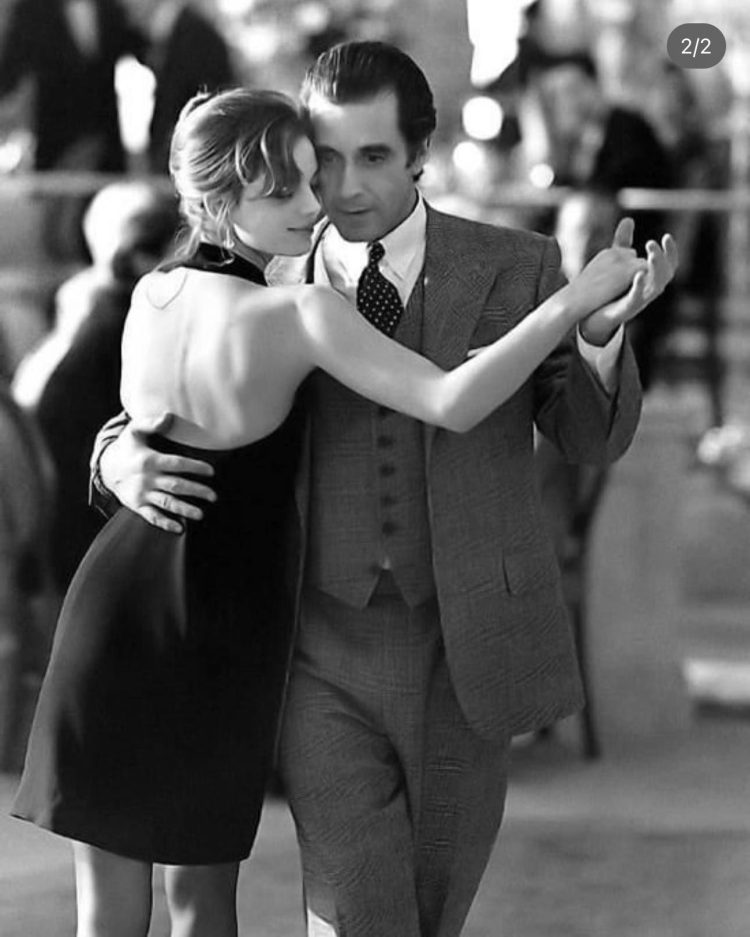 You have been raised in a family where cinema and theater were an important part. What do you often remember from your childhood, that makes you happy?
I have very fond memories of dancing to music with my parents. They are both very musical and introduced me to my own love of music and dance. My family encouraged endless creativity in our home, day and night. My brother and I helped my father build our house in the summers, dressed in nothing but our Wellington boots! My mother went back to college when we were young and we were her willing guinea pigs in her artistic teacher training. I attended a theatre arts school during high school and was further encouraged to express myself creatively. I have been blessed.
Have you always wanted to be an actress? And are there other professions you could choose if you weren't an actress?
I am writing feverishly currently. I can't stop! I have so many stories left to tell! I have always been a writer, my career as an actress seemed to just happen to me many moons ago and I have gratefully been able to sustain much of life as a single mother of three. My true passion is storytelling entirely from my perspective, not that of a director or producer. The older I get the more important this is to me. I have some projects in development for the first time and I am thrilled.
You starred in the music video of Paul McCartney's "Pretty Little Head". You were around 16 or 17 years old then. 
Paul McCartney was terribly kind to me. I am the same age as his daughter Stella so he was very paternal and took great care of me.
And your film début was Manifesto (1988), please look back and tell me about your film debut.
Manifesto was really tricky for me, being the youngest cast member. I was not included in the adult socializing, dinners, weekends etc., yet didn't feel like a child. One foot in childhood and one in adulthood can be a difficult transition for a lot of young adults.
I must ask you about your day routine. Please share your beauty secrets.
I confess I haven't been as active as I was prior. I am much more forgiving than I've ever been and really embracing the miracle my body has been for the last 52 years! My daily routine is relaxed and gentle right now. The children are all busy with their own lives and I am still adjusting to my youngest leaving for NYU this past summer. I spend my days writing in my home studio while the furry household creatures come and go in my lap. My husband and I enjoy our evenings together and often end the night with a great film. (We don't suffer bad movies gladly!) We live in a beautiful old harbor town and walk to the local restaurants and cafés as the weather is so conducive to al fresco dining. He and I are both very active in the non-profit world which takes up more and more of our time. I am really enjoying my sleep more than ever! I have a prolific subconscious!
In 1993 you were Chosen by "People" magazine as one of the 50 most beautiful people in the world. And you ranked #82 in 1996 and #79 in 1997 in FHM's 100 Sexiest Women in the World editions. And besides this, people can feel your inner beauty even through TV and movies. How do you manage this?
That is very generous of you!!! Even at that time I did not take the credit seriously, had the editor seen all the people of the world in order to make that judgement?I had my first child in 1993 and realized very early on that beauty is so much more than a face or a body. I just met the 80's super model, Paulina Porizkova this weekend as she promoted her memoir. I once admired her external beauty and now deeply admire her soul. A person's soul can be perceived through their actions so perhaps this is quite possibly expressed through a performance.
I won't miss the chance to ask you about the famous scene – tango with Al Pacino in Scent of a Woman. Please look back and talk about the shooting process.
A great film. My children all watched this film as seniors in high school and learned so much from the narrative. I was on set for a few days and learned much from working with such a high calibre director and actor. Pacino and I rehearsed the tango prior to shooting but did very little dancing together until we filmed the scene. He was a true gentleman. Marty Brest, the director was one of my favorite experiences being guided into a role.
After this scene a lot of women started wearing the dress you wear in film, doing the same haircut and moving like you do. This scene is like another movie in the whole movie. What do you think makes the scene famous?
I think the scene is so simple, innocent, yet romantic.
What does a person need for being happy?
To be happy, I believe one needs to make that choice. If a person is clinically depressed and happiness doesn't seem like an option, one must make a new choice to find happiness with a professional who can find a treatment or cure. I have dealt with depression in my past and truly believe there is always a choice to be made.