The Georgian economic growth is expected to slow to 3.5% in 2022 due to ongoing hostilities in Ukraine, after the "promising double-digit growth" last year, a new report of the Asian Development Bank (ADB) reads.
In Asian Development Outlook (ADO) 2022, the bank's flagship annual economic publication, ADB projects Georgia's gross domestic product (GDP) growth to recover slightly to 5% in 2023 due to increased internal and external demand, fueled by faster credit growth, with exports facilitated by structural reforms to trade and connectivity.

"Georgia is going to see the effect of Russia's invasion of Ukraine in the form of diminished tourism, exports, and remittances," said ADB Country Director for Georgia Shane Rosenthal. "To help the economy grow, the Georgian government needs to carefully prioritize expenditure after two years of expanded pandemic-related spending. It should also invest in urban areas in line with decentralization and invest in social sectors. And to ensure that all can participate in the economy, it is crucial to ensure high-quality education that reaches all parts of the country."

Inflation is forecast to slow to 7% in 2022 and 4% in 2023. The current account deficit is projected to widen to equal 10% of GDP in 2022 with a forecast rise in oil prices before narrowing to 7.5% in 2023. Exports are projected to increase by 12.1% in 2022 and 14.9% in 2023. As economic sanctions cut growth in the Russian Federation, remittances are forecast to decrease to $1.8 billion in 2022 and $1.7 billion in 2023.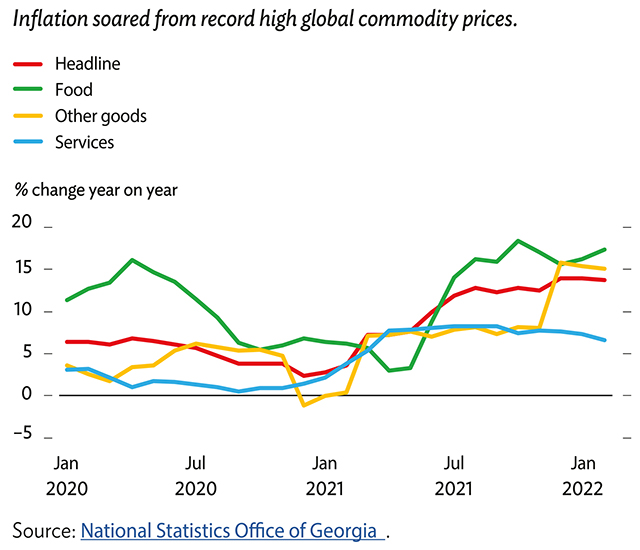 The ADB report highlights the need for Georgia to strengthen subnational public finances that will enable more efficient and equitable provision of services, including complex services that are critical for large population centers, water supply and sanitation systems in secondary cities and towns, and health care, education, and social protection for disadvantaged populations. Fiscal decentralization would improve service delivery and support growth.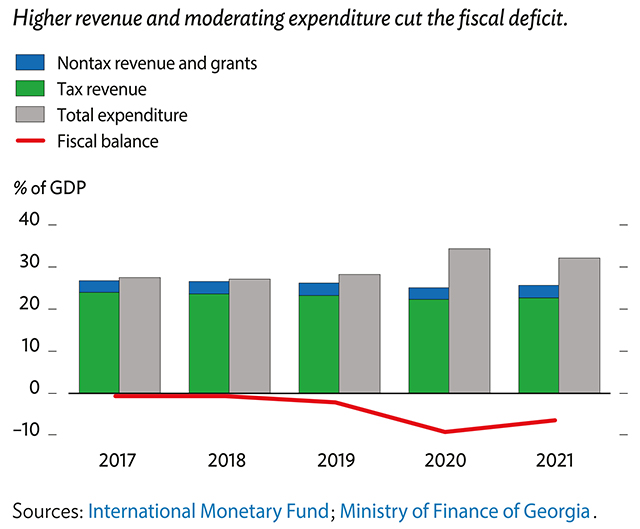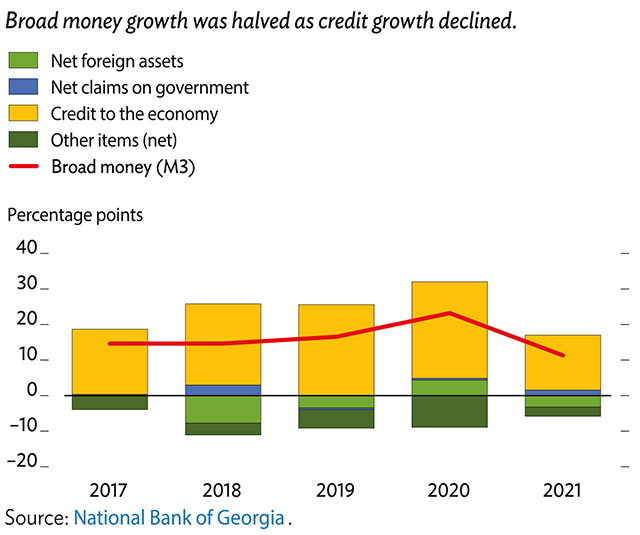 "Georgia can benefit significantly by building capacity in municipalities. The success of fiscal decentralization will depend on developing financial management capacity in local governments and training local officials in policy development and implementation skills, such as health and education budgeting and social service delivery," reads the report.

ADB has supported Georgia since 2007 and is one of the country's largest multilateral development partners. Sovereign and nonsovereign loans to Georgia total $3.9 billion. ADB's key development priorities in Georgia include fostering inclusive and sustainable economic growth, reducing poverty, enhancing regional connectivity, and improving public service delivery.