An airport in its classical sense is a combination of a runway, passenger and cargo terminal, an aerodrome and the control tower. The development of the aviation sector over the last 25 years has significantly increased the number of international travelers. The aviation industry is a specific area where the main players are airlines, airports and passengers.
The growing demand for international travel over the years has raised the need for privatization of the airport business and its further development. Today, there are about 80 international operators in the world which manage most of the world's airports and provide a full range of operational and management services related to airside and terminal operation.
The civil aviation sector currently employs 10 million people, most of them men due to the specifics of the field. While the percentage of women employed in leadership positions around the world is very small, Georgia is the first country in the region where the two main airports are headed by a female manager.
Tea Zakaradze's career in Georgian aviation kicked off in 2005. As she herself tells us, starting to work in a completely new environment was not easy; however, her belief in taking on any challenge without fear helped her to establish herself in that male-dominated field.
We visited Tea at work and got acquainted with the operation of Tbilisi International Airport. The first part of the interview took place in the aerodrome.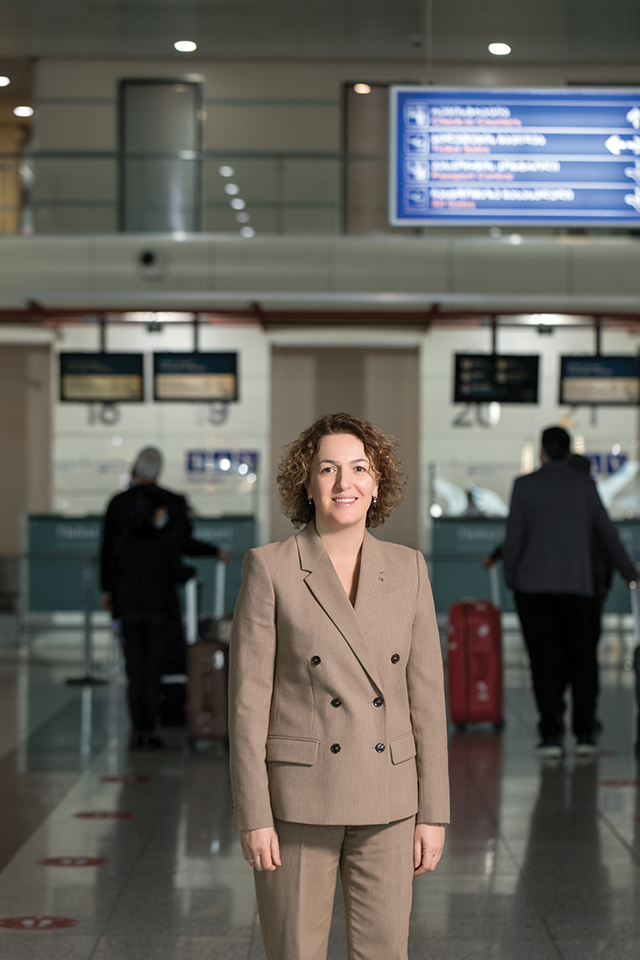 We are now at the most important place in the airport – the aerodrome. How often do you monitor construction and infrastructure or other operational works on site?
It is Friday and as per tradition, it's "Airside Day." Airside includes the aerodrome, technical maintenance, garage, ground handling, and firefighting service. At the aerodrome, I'm going through the final details of opening and commissioning the new taxiway with my team. The airport is like a living organism, and it needs renewal and the implementation of various infrastructure projects annually. We constructed a new taxiway (G) at Tbilisi International Airport, in which we invested an additional $2.5 million. The new taxiway will increase the runway throughput, making it easier for aircraft to move in the aerodrome. Now, in total, Tbilisi International Airport will have six taxiways.
Observing work or operating processes from the office has never been my management style. I became a member of the TAV Georgia team in 2005, when construction of Tbilisi International Airport began.
Working in various positions gave me the benefit of learning more about all the details needed to operate an airport properly- from the operation of flights to the carpark. I never approach any issue superficially: an in-depth approach to any problem and insight into every technical detail helps me make the right decision with my team. In addition to being involved 24/7 in the operation of two airports, I maintain daily communication with the management of various other airports, which sees us sharing experiences on specific issues. Together with my team, I'm involved in bringing new airlines to the Georgian aviation market and we are negotiating with the existing airlines to increase flight frequencies.
The number of flights during the pandemic declined sharply and it is still difficult to predict when aviation will return to 2019 figures. Nevertheless, while the company is still dealing with the economic crisis caused by the pandemic, we offer favorable conditions for new or existing airlines.
At the airport now, I see only men around you. Some say aviation is a man's field. How difficult was it to adapt and establish yourself in the male-dominated world of aviation?
I agree that, factually, aviation is a very male-dominated field. My mother, who was my main motivator, played a big role in shaping me as a strong and independent woman. I was born into a family of medics. My mother held a leading position in the medical field, which was rare at that time in Georgia. During her professional career, she broke a lot of stereotypes and barriers; with her example, she helped me to pave the way in my professional career and to not be afraid of taking on new challenges. With the education I received abroad, I became more independent and gained adaptation skills and a perspective that helped me to succeed in various environments. In the male-dominant environment, I never want to lose my authenticity in a man's mindset- I always stay true to my beliefs and approach leadership in my own authentic way.
44% of the TAV Airports Top Managers are women
I'm really happy to work for an international company for which gender is not an issue. Despite the many important changes we have witnessed throughout the world in recent years, ensuring gender equality still remains a challenge in both the private and state sectors, as does provision of a working atmosphere facilitating their economic strengthening. I can say firmly that the policy TAV Airports implements provides for employment and further development of its employees, observing the gender balance. 44% of the present TAV Airports Top Managers are women, and this fact, considering that we're speaking about aviation, a sphere which is dominantly masculine, gives great stimulus.
2021 ended with very important news: Tbilisi International Airport was awarded 5 stars from Skytrax and recognized as a Covid-19 safe airport. What other news can we expect this year?
The most influential and prestigious consulting company in the aviation field, Skytrax, awarded Tbilisi International Airport a 5-star certificate in Covid-19 safety. Skytrax independent experts from Britain assessed over 150 protocols established in the airport for safety provision. Ensuring a safe environment for our passengers and employees remains our number one priority. Despite the fact the pandemic has been part of our lives for two years now, we exercise the same level of prudence and care toward keeping both the airports operated by us in full compliance with the standards recommended by WHO and other international organizations. Only 20 airports have been rated 5-star globally so far, and Tbilisi International Airport is among them.
In addition, in February 2022, Tbilisi International Airport earned recognition in ACI World's Voice of the Customer, being proof that even during the pandemic, the airport prioritized customers' interests and stayed committed to ensuring a comfortable environment for passengers.
Both airports are infrastructurally ready for the hot and busy summer travel season. Intensive negotiations are underway with the new German airline, Eurowings, which will start operating in the direction of Frankfurt-Tbilisi. This will also add a new direction from Germany, which will operate flights in the direction of Stuttgart-Tbilisi from July this year.
Tea Zakaradze's belief in taking on any challenge without fear helped her to establish herself in the male-dominated aviation sector
We also have news at Batumi International Airport. In addition to three new airlines Fly One, Saudi, Uzbekistan Airways, we are in active negotiations with another large air-company, which will operate flights from Europe to Batumi for the first time. Belavia Airlines has big plans for both airports operated by us during the summer season. The air-company is increasing flight frequencies and anticipates a 30% increase in passenger flow, and it adds a new direction for Batumi Airport. In addition, the existing air-companies have already approached us with a request to increase the frequency of flights.
In 2022, we are going to introduce new technologies to both Tbilisi and Batumi international airports. We have already implemented new electronic check-in systems (BRS, CAPS) that will make the passenger check-in and baggage sorting processes faster, simpler and more comfortable. By the end of the year, new modern technological systems will be introduced to the car park as well. From the infrastructural development viewpoint, we are planning to expand the Duty Free shops in both the airports operated by us and will offer our passengers a wider and even more attractive assortment of Georgian products to support and encourage the local market. Moreover, we are adding both restaurant and café style food courts in both airports. With our involvement, the famous British coffee house brand Costa Coffee is entering the Georgian market, opening its first facility in Tbilisi International Airport. We are also extending and renovating the Tbilisi International Airport CIP lounge for our priority passengers. We have many innovations and new developments. We do our best to help our passengers feel comfortable in our airports and hope that the current epidemiological situation will soon end both in our country and globally, letting people travel throughout the world freely.
What would you advise young women interested in a career in the airport business?
Be authentic and never let others make you doubt yourself. Constant hard work and dedication are the keys to success. It's not impossible to see females employed at differing levels in an airport, including passenger handling, terminal operations, general management, in the technical department and more. At TAV, we hire people based on their skills and competence for the role, and not for their gender or age. We always cherish equal opportunities and support women in aviation.