Proton therapy, also known as proton beam therapy, is a form of radiation treatment used to destroy tumor cells. Instead of using x-rays like regular radiation treatment, it uses protons to sends beams of high energy that can target tumors more precisely than X-ray radiation. When treating a patient, doctors and physicists work together to focus the proton beam on the exact size and shape of the tumor. The beam kills the tumor cells layer by layer, sparing surrounding healthy tissue.
Proton therapy is an outpatient procedure. Most patients are treated over a course of several sessions, and some treatments take longer than others. Currently, the proton beam is only available in a few specialized Hadron centers around the world. Soon, one of those centers will be based in Georgia's Kutaisi International University, where one cyclotron machine will treat patients, and another will be at the disposal of national and international scientists for research purposes. The project was initiated and is being funded by Cartu Fund.
GEORGIA TODAY sat down with Cartu Fund's CEO, Nikoloz Chkhetiani, to discuss the exciting news.
"There are three main manufacturers of cyclotron machines in the world. IBA (Belgium), Toshiba (Japan) and Varian (USA). We compared them which each other. The most flexible and friendly feedback was received from IBA. At the same time, they are the biggest company in this field globally with a market share worldwide of more than 50%," Chkhetiani tells us.
"Our relations with them started in early 2018, and by the end of the year, we had signed a contract for two machines and a maintenance package and training of the Georgian crew. We spent almost a year on negotiations because the topic was complex, but even so, IBA noted that we were the fastest decision-making counterpart among all their customers, whose initial negotiations average 3-4 years. Some of their clients (mainly governments) spend up to eight years just concluding the contract!
"In 2019, assembly started in Belgium. It's a very difficult manufacturing process as each cyclotron weighs more than 40 tons and is made up of thousands of parts. We visited Georgia's first cyclotron at the end of last year. It's ready and just has to be tested and calibrated by the manufacturer. The second machine will be ready by the end of May 2022."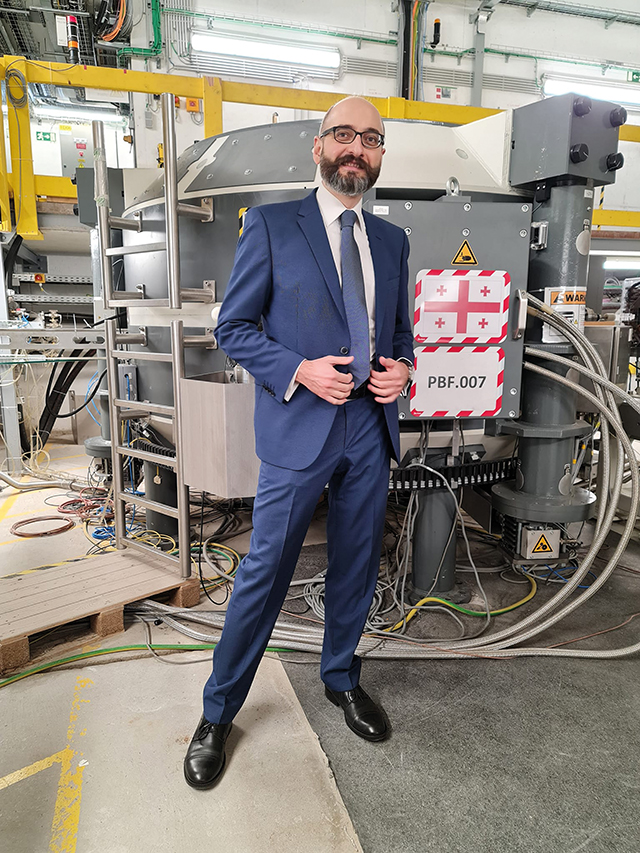 Why was it decided to have a Hadron Center in Georgia, and why in KIU?
Kutaisi International University (KIU), is one of the country's biggest projects, and we realized well that for it to be able to compete among thousands of other universities in the world, we would have to offer something special for the scientific community and for our students. So we studied the subject in different ways and finally decided to create a Hadron Center on campus.
There are several benefits: 1) it is good for use in scientific research for physics (KIU is positioning itself as a STEM-oriented university); 2) it is useful for cancer treatment, which means it would be beneficial not only for the narrow segment of the scientific community, but for Georgian society as a whole; 3) there is a huge lack of such centers in our region. The vast majority of them are concentrated in the USA, Europe, and the Far East (Japan and China). The nearest centers for Georgia are somewhere in Russia, and in Vienna, Austria. The Egyptian government is planning to create a center in Cairo, but our project is much more advanced. There isn't such a center in Turkey or in our closest neighbors Armenia or Azerbaijan. There is nothing like it in central Asia either. So in this regard, the Kutaisi Hadron Therapy Center will fill a huge gap on the world map. This is crucial to attract international patients.
With all these elements, KIU will have a very interesting and attractive component, which will make it competitive and exceptional among the its rivals. Another unique feature is that our Hadron Center will have two cyclotrons. The majority of centers have only one, meaning medics and researchers have to share the same facilities. This is not comfortable because the different crews will always have some issues with each other. At the same time, it is difficult time-wise. In such a model, medics would be forced to use the machine only during the day, and the scientists at night. Such intensive use can damage the machine.
On the other hand, there is a risk of under-calibrating something which can then harm the treatment process of medical patients. So, after considering that, our donor Mr. Ivanishvili decided to double the expenditure and to purchase two machines. One will be used only for treatment and the second will be dedicated to scientific research. It is a unique combination, one which will attract international researchers to our center because so called "beam time" is in deficit worldwide.
What are the expected benefits to Georgia (and Georgians) from this project?
I'm pretty sure there will be huge benefits for Georgian society in this project. Our country will be a pioneer in this field in the region (Middle East, the Caucasus, Central Asia), upscaling our country and bringing it to a completely new level in terms of science and medicine. There will be a real chance for citizens to get unique oncological treatment right here in their homeland. And, of course, it will attract international clients. Medical tourism has huge potential. With this project, Georgia has a chance to became attractive in different ways – not to be a destination only for wine-lovers. I have nothing against wine and Georgian cuisine, but if we want to be a competitive country, we have to create something more than just gastronomic diversity.
Who will work in the center?
We are now putting together a Georgian crew, those who will operate the cyclotron machines. There are some serious requirements for this, and we are looking for candidates among both physicists and medics.
After that, they will have an opportunity to take special study courses organized by IBA.
We are open to international specialists too. I'm sure the Kutaisi Hadron Center crew will end up a mix of Georgian and international medics and scientists.
Tell us what you know of how the cyclotron works to treat cancer and why it is better than conventional therapy.
The main idea of Hadron therapy is that the proton beam hits only the tumor and does not harm the patient's surrounding healthy organs. It is particularly effective in treating children with brain and spinal cord tumors, who often suffer side effects from other cancer treatments. After being treated with the proton beam, most people can go home and carry on their regular activities.
Will this therapy be affordable for the average Georgian?
I'm sure it will be affordable for Georgian citizens. We are cooperating very intensively with the government, and I'm sure that by the time the center is launched, there will be a dedicated governmental support program (insurance) for Georgian citizens to make use of.
A cyclotron is a compact particle accelerator which produces radioactive isotopes that can be used for imaging procedures. Stable, non-radioactive isotopes are put into the cyclotron which accelerates charged particles (protons) to high energy in a magnetic field. When the stable isotopes react with the particle beam, a nuclear reaction occurs between the protons and the target atoms, creating radioactive isotopes for nuclear medicine and other purposes.
Cyclotrons can be used for animal and human health imaging and research and crop/plant imaging and research, including the development of new compounds, called radiopharmaceuticals, that can lead to improved detection, diagnosis and treatment of diseases such as cancers, Alzheimer's, Parkinson's and multiple sclerosis. By tagging specific biomolecules with radioisotopes, scientists can track the processes that can lead to diseases in specific organs, based on how the 'tagged' molecules are absorbed.
Other areas of research include physics related to the production of new radioisotopes using the cyclotron and the design of more sensitive radiation detectors.
Students, faculty and researchers from a wide array of disciplines and industry partners can use the cyclotron to research solutions to complex problems, and health professionals can be trained in the most advanced imaging and treatment protocols.
Source: fedorukcentre.ca
By Katie Ruth Davies