The renovated Petra Fortress is ready to receive visitors, reports the Ajara Tourism Department.
Petra was a fortified town on the eastern Black Sea coast, in Lazica, in what is now western Georgia. The mainstream scholarly opinion identifies Petra as a ruined settlement of Late Antiquity. It is located on the coastline of the village of Tsikhisdziri in Adjara.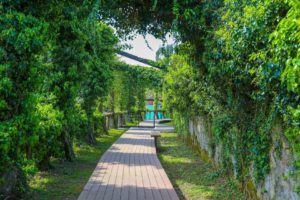 Archaeological work on the castle has been ongoing since 1987. The Petra fortress Museum-Reserve has been operating since 1989. The museum preserves archeological excavations of the complex, which covers the period from the Bronze Age to the Early Middle Ages: architectural details, fragments of mosaics, materials of the VIII-VI centuries stalls, a tomb, and IV-V centuries' remains, ceramics, numismatic material, and more. The reserve area covers about 7 hectares.
Large-scale rehabilitation of infrastructure at Petra Fortress has been completed and the tourist destination is once again ready to receive visitors.
Source of information : wikipedia.org
By Ketevan Skhirtladze