This year, door-window and shading systems manufacturer "Dio" celebrates an important date – its 25th anniversary. Dio Ltd's history began 25 years ago, in 1996. Now, it holds the leading position in the field on the local market.
Starting out by producing nothing but blinds, the business has evolved into a factory with state-of-the-art technology, and has expanded into producing up to 70 products, among them PVC doors and windows, interior and exterior sun protection and shading systems, gate automation, and industrial products.
Dio is focused on offering new, innovative products for customers, and meeting the market demands, which has conditioned the company's successful operation on the market over the years. Furthermore, the company is distinguished by high Corporate Social Responsibility and contributes to the employment of locals, especially of women, thus breaking stereotypes that only men can work in such companies.
To find out more about its key to success, and about how a modern business should operate in order to meet customers' demands, GEORGIA TODAY spoke to Tamuna Daushvili, Managing Partner and CFO of DIO.
What does 25 years of customer experience mean to you, and what do you consider to be the company's main achievements during this period?
A lot changed in the country during this period, and consequently it has affected our activities. We started the business with a team of three, and today employ about 200. Blinds were a novelty in Georgia, we needed to explain first what we were offering, and then the need for the product.
Needing to establish local production, we introduced a vertical and horizontal blind machine. Later, we added other products: outdoor protective blinds, doors and windows, awnings, etc. The business has since grown to a factory equipped with modern technologies and, consequently, the range of products has increased. The company now produces up to 70 products.
For 25 years, we have faced many challenges due to the variability of the political and economic environment. We needed to manage our finances properly, and invest well in new projects. There are about 70 products in Dio's portfolio today, and the appearance of each product was preceded by calculations, planning of financial and marketing activities, study of new equipment, and systematic training of qualified staff. We have worked and are working in all directions, first and foremost on ourselves, to be able to manage the processes correctly.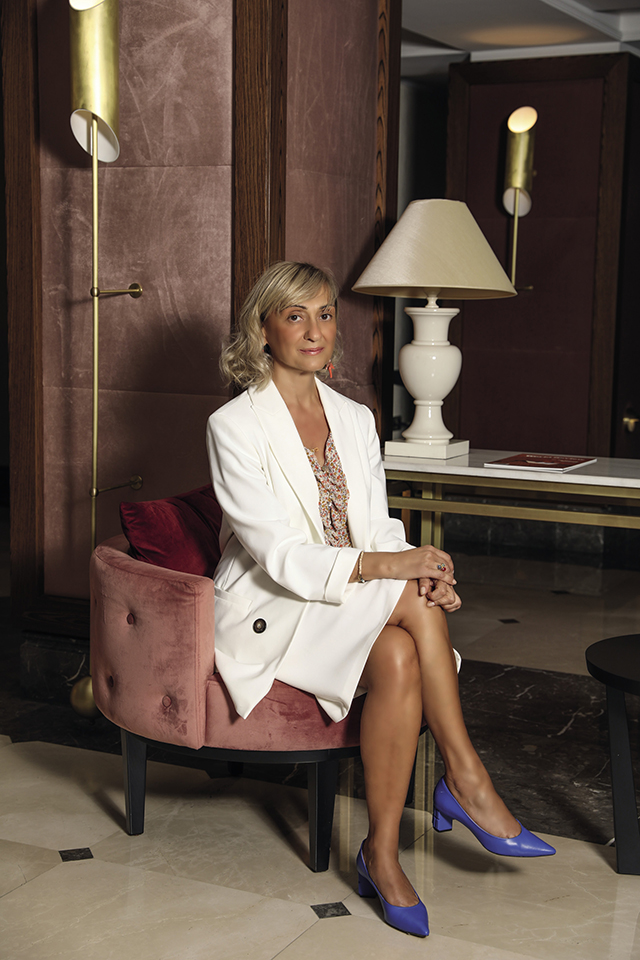 How did the company celebrate its anniversary? Did you have any special promotions or offers for loyal customers?
If not for the pandemic, our anniversary activities would have been different. But we did manage to implement an active marketing campaign "Dio – 25 years together!"
In addition to 25% discounts, we offered new products to our customers: aluminum stained glass partitions, sliding insect protection nets, glass roofing / railings, updated glazing systems, and an update to the color palettes of awnings and curtains.
We have ongoing promotions to show the external and internal look and form of our company.
The company maintains a stable leading position on the Georgian market. What factors led to Dio positioning itself as a credible, experienced and leading brand?
The company has a fairly long value chain, for which we take the greatest responsibility, starting with the selection of raw materials, imports, warehousing, production, installation and after-sales service. With us, customers have the opportunity to create comfort and innovation at home and outside.
We show that Dio offers outstanding service and quality for the future, and this mood makes them eager to buy Dio's products and services.
What is the scale of the company today? How do you take care of your employees' qualifications?
Today, the company owns three enterprises and five show rooms / branches in Tbilisi (Digomi and Saburtalo), Telavi, Kutaisi, and Batumi. We also have a well-organized dealer network through which we are widely represented throughout Georgia.
A successful group creates the right environment for new ideas. The goal of the company is to have new team members go through the adaptation phase quickly, for which we try to set group activities in our production process in order to solve problems together in different environments. Qualifications include training, and the direct involvement of managers and personal examples. We strive to create an environment for staff development so they can make proper use of their talent.
Dio is focused on innovation and high standards of service. What are your future plans in this direction?
We want the company to be more ambitious, full of innovations; creating new projects, working hard to make projects successful, and at the same time making each employee feel like they work in a company where they are appreciated, and where they can use opportunities to move forward with Dio toward success.
We have hopes, we have plans, we create the mood and we continue to work, always moving forward.
By Ana Dumbadze