Sometimes, all you need for a better mood is a glass of perfect wine, or even a cocktail, and a delicious meal in a pleasant environment. This is exactly what awaits guests at the restaurant Gandagana, where live music promises to energize.
Gandagana restaurant was opened in Tbilisi's historical district of Avlabari. Due to its sophisticated service and delicious cuisine, it quickly gained popularity among both local and foreign gourmands.
The restaurant is located on the territory of the hotel Ramada by Wyndham, which includes many additional facilities, and offers guests Georgian and European dishes.
The hotel boasts a historic cellar that was accidentally discovered during construction. Inside, in traditional Georgian clay vessels called Qvevri, Gandagana branded wine is stored. Guests can enjoy natural drinks of different types, produced according to Georgian standards and traditions, among them white and red wine, and locally made chacha. In the wine cellar, they also can get acquainted with an old traditional winepress "Satsnakheli", boasting 50 years and brought from Kakheti especially for the restaurant.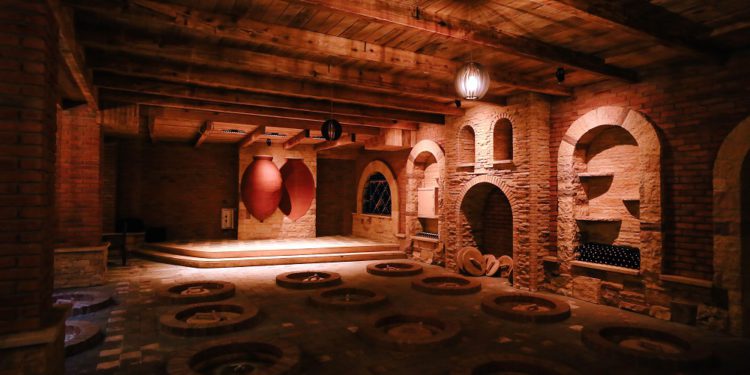 The restaurant has three floors, with décor which is a mixture of modern and vintage style.
The interior reflects the "Loft" style, and is sure to impress visitors with its Georgian elements and modern furniture.
The first floor is equipped with a bar and a cozy seating area, giving guests the opportunity to enjoy a variety of dishes of European cuisine accompanied by live music, while the second and third floors are oriented on Georgian dishes. Gandagana's Georgian dishes are made according to special recipes belonging to the restaurant's chef, who likes to keep to old Georgian traditions.
The facility also has an outdoor space decorated with greenery, where guests can relax in warm and sunny weather.
The service is totally focused on premium quality and the maximum satisfaction of guests.
The restaurant is open from 12:00 noon to 11:00 pm. In addition to being able to enjoy delicious and unique dishes, guests are also offered live music. The group Bani, a favorite of the local audience, takes care of the perfect mood of all guests in Gandagana.