The 200,000-ton container ship Ever Given travelling from the Red Sea to Rotterdam has got stuck in the Suez Canal, blocking the way for 15 other vessels.
The Panama-flagged container ship leased by Taiwan's Evergreen Marine Corp., ran aground at 7:40 am (05:40 GMT) on Tuesday, shipping company GAC reports.
Evergreen explained that it was suspected that the ship was hit by a sudden strong wind, causing the hull to deviate from the waterway and accidentally hit the bottom and run aground.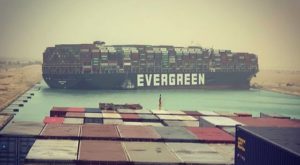 The ship is being cleared by eight large tugboats, but it may be weeks before it is re-floated, the ship working operators say. This delay could bring considerable damage to the global supply chain already disrupted by the pandemic.
Floatation Works of the Grounding Vessel in the Suez Canal continues. 
"The navigation through the Suez Canal is temporarily suspended. That is only until the floatation works of the large Panamanian container vessel Ever Given; that ran aground at the 151 km area (Canal Marking), are complete." Admiral Osama Rabie, Chairman and Managing Director of the Suez Canal Authority announced today.
By Ana Giorgadze