Tbilisi City Hall Environmental Protection Service has planted 10,765 saplings on the adjacent slopes of the Chronicle of Georgia monument near Tbilisi Sea as part of the Urban Forest Restoration Project.
"Approximately 6.6 hectares of forest have already been restored within the framework of this project. More than 10,000 different species of trees are planted in the area, and an irrigation system is being set up to create all the conditions for the seedlings to grow," said Deputy Mayor Andria Basilaia.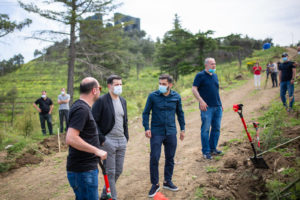 Different species of trees were planted in the area, none less than 1.5 meters high. 2153 field maple saplings, 2153 Caucasian acacia, 2153 common ash, 2153 Himalayan cedar, 1077 common almond, and 1076 trim were planted. In parallel with the arrangement of the irrigation system, work is underway to bring fertilized land to the site. In addition, in order to protect the newly planted trees, fencing of the area is also planned.
By Ketevan Skhirtladze