Georgian Pavilion Opens at Frankfurt Book Fair
The Georgian Pavilion was opened on Tuesday evening at the Frankfurt Book Fair, where Georgia is represented as the Guest of Honor.
The Pavilion showcases 33 letters of the Georgian alphabet, introducing various sides of the country's literature, art and culture.
On the initiative of the Prime Minister of Georgia Mamuka Bakhtadze, a unique handmade edition of the famous Georgian poem The Knight in the Panther's Skin by Shota Rustaveli is also on show in the Georgian Pavilion.
The cover of the book is decorated by well-known Georgian artist-sculptor Guji Amashukeli. The unique edition was created by a group of artists and calligraphers in Tbilisi and Paris in 2017-2018: painters Sophio Kintsurashvili and Tamaz Varvaridze, and calligraphers Davit Maisuradze, Giorgi Sisauri, Nino Ikashvili, Ana Gokadze and Levan Tskviravashvili.
The decorative cover is made from silver and more than 20 types of precious stones. After the Frankfurt Book Fair is over, the book will be deposited at the United Nations Arts Collection in New York.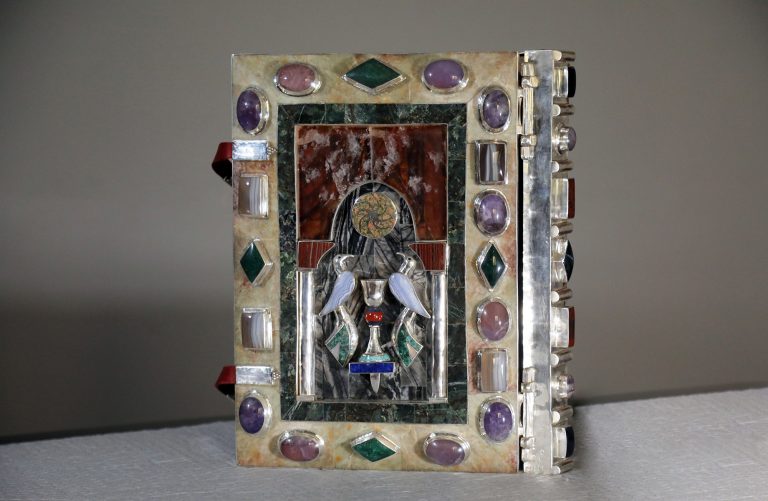 The Prime Minister of Georgia presented to the High Representative of the European Union, Federica Mogherini, a collection silver coin with a denomination of 5 GEL branded as The Georgian Book, which has been minted by the National Bank of Georgia (NBG) to mark the participation of the country in the Frankfurt Book Fair as the 2018 Guest of Honor.
In addition, Bakhtadze and high-ranking officials also viewed the Magnum photo exhibition and attended a concert of Georgian pianist Khatia Buniatishvili, who performed for the guests of the Georgian Pavilion.
By Thea Morrison
10 October 2018 09:28